Blade Dancer Series
Look to the skies and understand that this is not your world. Extend your claws and realize you are not human.
Enter Mikial's world as she faces First Contact gone wrong. Published by Burst Books. Read the series review.
(click on books to enter their respective pages)
---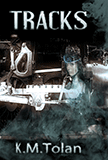 Tracks
Vincentís sister is swept away by a steam locomotive riding rails that vanish along with her. Ten years later he rediscovers those tracks, and heads down them to bring her back. I will open up the book's web page in February of 2014 with all the exclusive info and sample chapter.
Coming in March, 2014 by Burst Books
You need to upgrade your IE 8 browser to IE 9 (or get Firefox) to see this site at its best.